Is your manual inventory management system out of control?
Most dental practices are faced with higher overhead than ever before. The increased cost of PPE alone has added to the challenge of growing your practice at a profitable rate.
Is your supply closet or storage area filled with obsolete or expired supplies? The financial loss of supplies can significantly impact your bottom line. Inventory loss can be a result of ordering too large of a quantity to meet practice needs. Tossing expired or obsolete materials is profit being thrown away.
Ordering dental supplies can be a daunting task for a practice and many perform this process manually. There is more to supply management than creating a supply list, placing an order, receiving supplies, and paying an invoice – this is simply your purchasing process.
This article covers the procurement process and how utilization of software can not only simplify that process but also save you money, increasing your bottom line.
What is procurement?
According to Merriam-Webster.com procure means to obtain (something) by particular care and effort. For the dental practice this refers to obtaining the necessary supplies needed to offer dental care to patients efficiently at the most favorable cost.
The steps of procurement are illustrated here: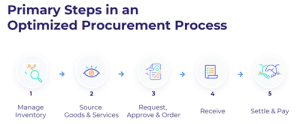 *Image courtesy of Method USA
Detailed steps are noted below:
Identify the need
Research and source the appropriate supplier
Create and maintain a supplier list
Request and compare pricing from various suppliers
Evaluate quotes received
Negotiate with suppliers
Review budget and coordinate any pre-purchase approvals
Place order with supplier
Receive supplies/products
Verify shipments and perform quality checks
Put products into storage or use
Verify charges and pay invoices
Manage inventory and product formularies over time
Analyze Key Performance Indicators (KPIs) including savings, usage, compliance
Build relationships with suppliers
As illustrated, there are many time-consuming steps in the procurement process. When these steps are performed manually by a team member, you often aren't taking advantage of the best prices, including benefitting from special promotional offers. It is a lot to keep up with. How would you like to free up your team members to focus on what is most important for the growth of the practice, the patient?
So, what is the solution?
The solution is procurement software. Increasingly, practices are turning to cloud-based platforms that allow you to manage inventory, utilize a cost comparison tool, monitor your spending and perform analysis over time. These capabilities streamline your procurement process and increase your bottom line.
By automating the steps in the procurement process, you will free up your team members to focus on the patient and practice growth along with ensuring you are taking advantage of the most competitive suppliers, receiving the best pricing including promotional offers and free products, and managing shipping and handling costs.
Our team at Unified Smiles has the solution to meet this need and many more. Contact the Unified Smiles team directly or visit Method, our procurement partner, to learn more.